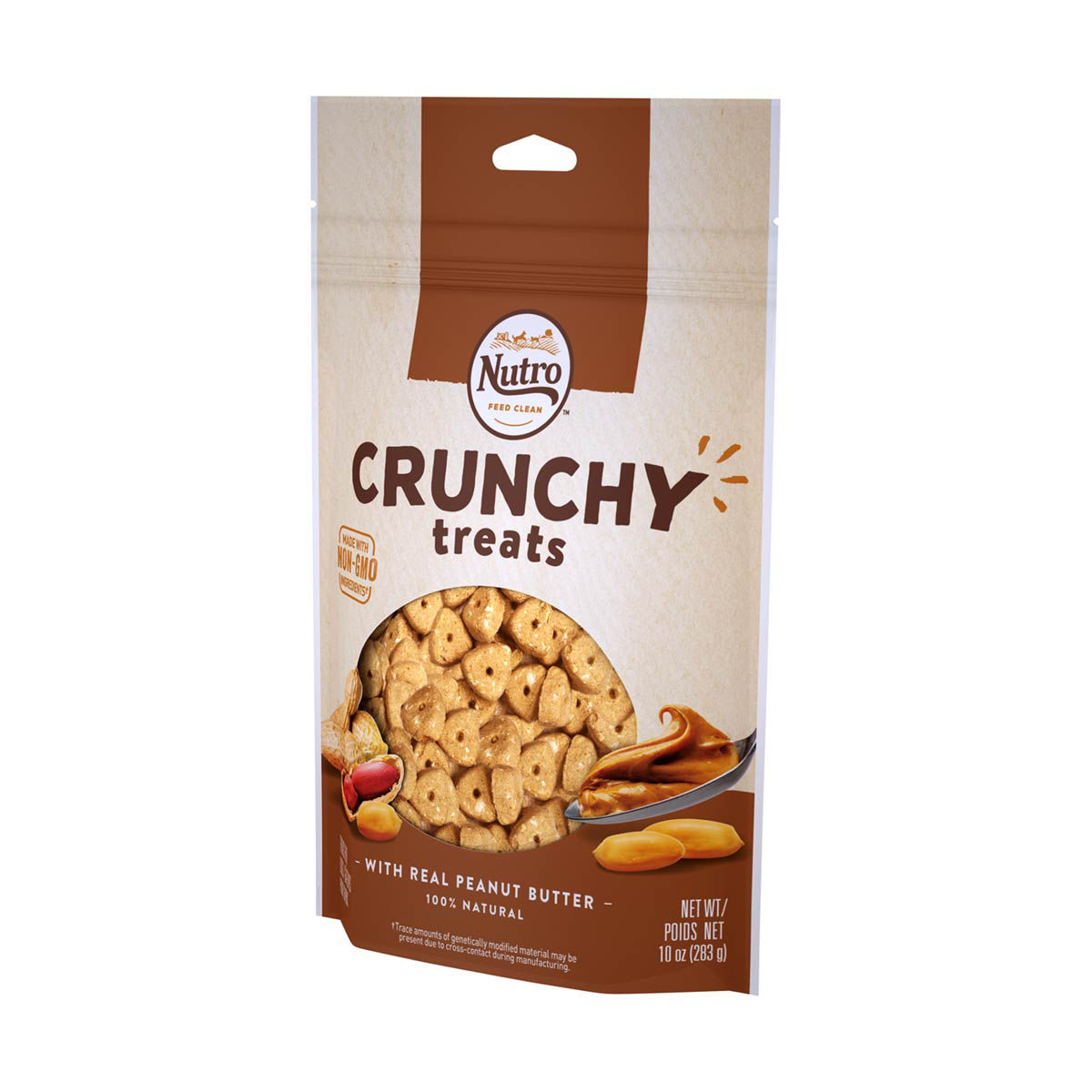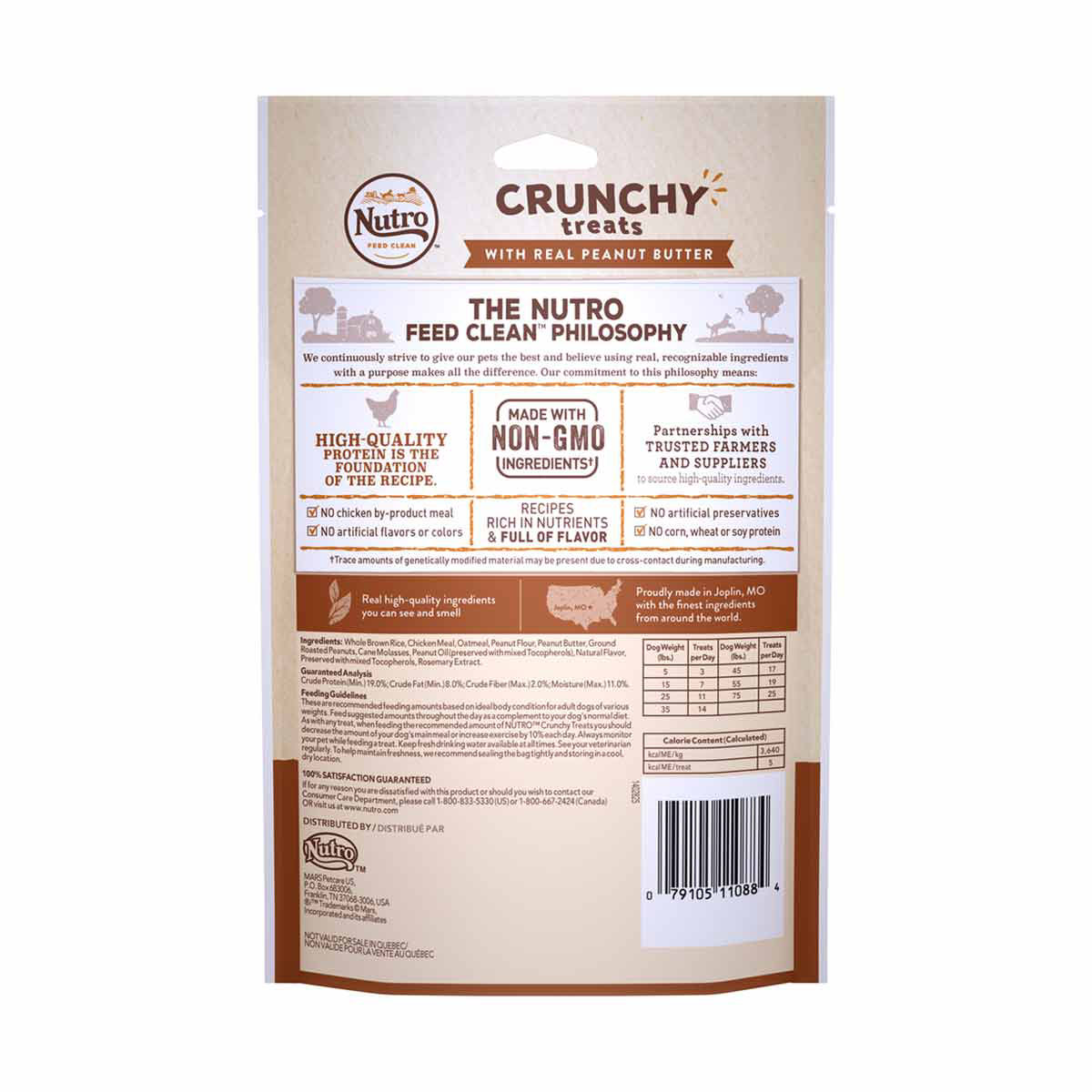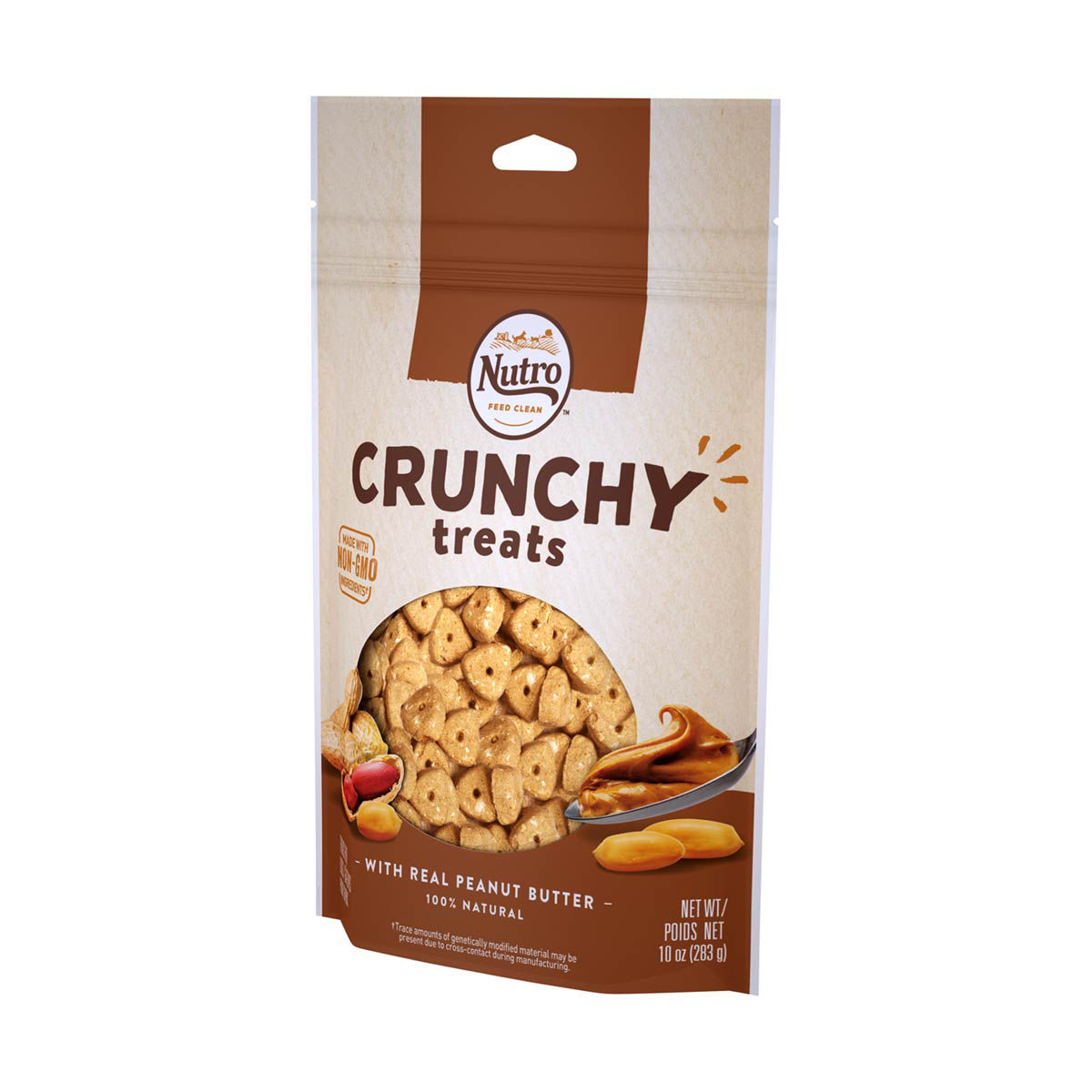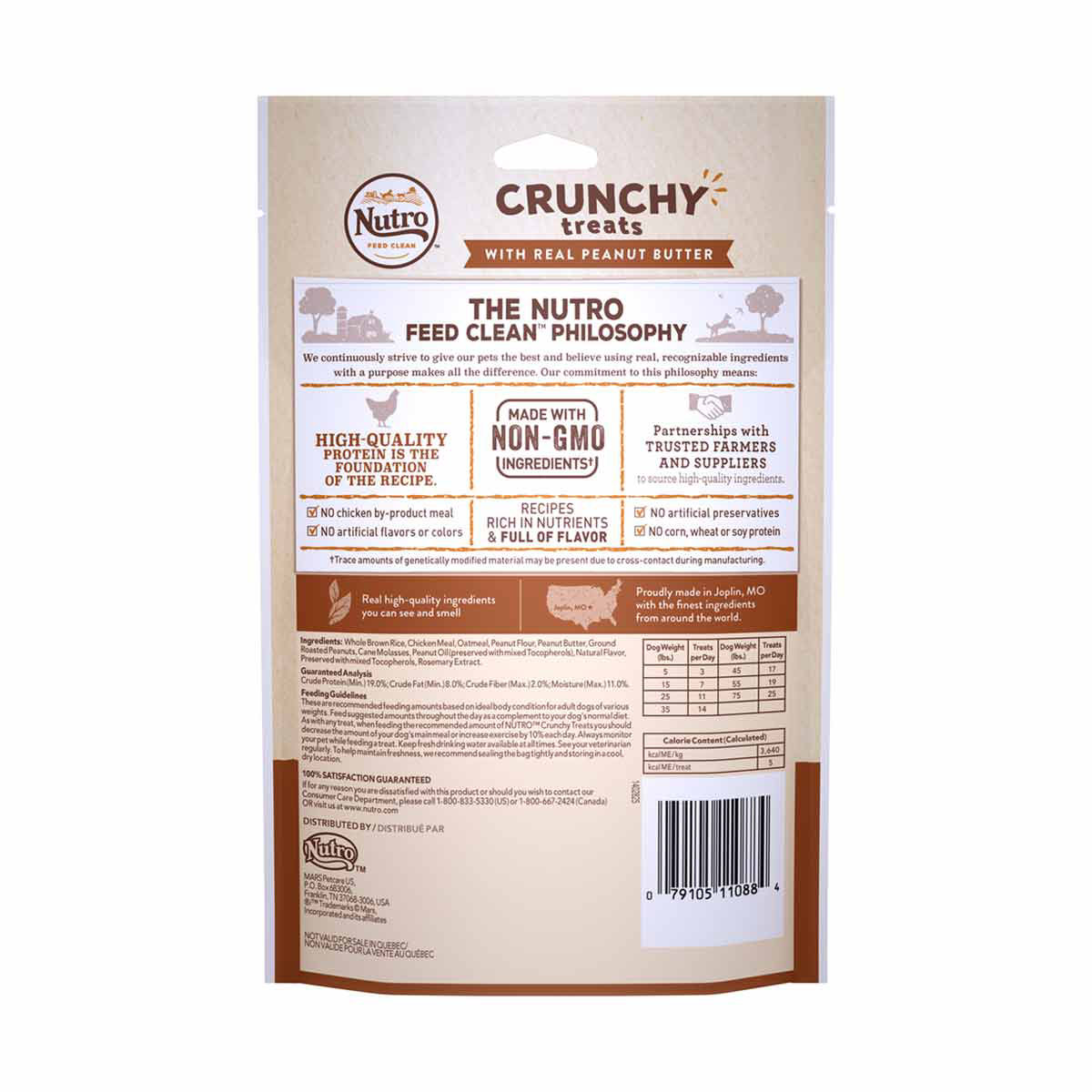 NUTRO Crunchy Dog Treats with Real Peanut Butter, 10 oz. Bag
Highlights
Contains one (1) 10 oz. bag of NUTRO Crunchy Dog Treats with Real Peanut Butter
NUTRO Crunchy Dog Treats are rich in nutrients and full of flavor, making them healthy treats your small breed or large breed dog will enjoy
High-quality protein is the foundation of NUTRO Dog Treats-and they're made with real, high-quality ingredients you can see and smell
At only 5 calories per treat, NUTRO Crunchy Treats are great natural training treats your dog will sit and stay for. Plus, they're Natural, Corn Free, Wheat-Free, and Soy Free.
Description
Dogs love the crunchy texture and natural flavors of NUTRO Crunchy Dog Treats. These 100% natural dog treats are made with non-GMO ingredients*, containing: NO chicken by-product meal, NO artificial flavors or colors, NO artificial preservatives, NO corn, wheat, or soy protein. Our NUTRO Treats for Dogs with Real Peanut Butter are thoughtfully prepared to give your canine companion a delicious, healthy bite-size snack, to reward an active and healthy lifestyle. * Trace amounts of genetically modified material may be present due to cross contact during manufacturing. We continuously strive to give our pets the best and believe that using real, recognizable ingredients means you can treat your furry friend without compromise.
Specifications
Key Features: NUTRO Crunchy Treats contain: NO chicken by-product meal, NO artificial flavors or colors, NO artificial preservatives, NO corn, wheat, or soy protein. NUTRO Crunchy Treats are a great way to train and reward your dog!,Proudly made in Joplin, MO, with the finest ingredients from around the world
Brand: NUTRO
Assembled Product Height: 9.94 in
Assembled Product Width: 6.17 in
Assembled Product Length: 2.13 in
Assembled Product Weight: 10 oz
Has GMOs: no
Animal Lifestage: Adult
Flavor: Peanut Butter
Pet Size: All Sizes
Pet Food Form: Crunchy Treat
Feeding Instructions: These are the recommended feeding amounts based on an ideal body condition for adult dogs of various weights. Feed suggested amounts throughout the day as a complement to your dog's normal diet. As with any treat, when feeding the recommended amount of NUTRO Crunchy Treats, you should decrease the amount of your dog's main meal or increase exercise by 10 percent each day. Always monitor your pet while feeding a treat. Keep fresh drinking water available at all times. See your veterinarian regularly. To help maintain freshness, we recommend sealing the bag tightly and storing it in a cool, dry location. Dog weight/suggested number of treats per day 5 lbs.: 3 15 lbs.: 7 25 lbs.: 10 35 lbs.: 13 45 lbs.: 15 55 lbs.: 18 75+ lbs.: 22+
Manufacturer: MARS PETCARE US INC
SKU: 26414201