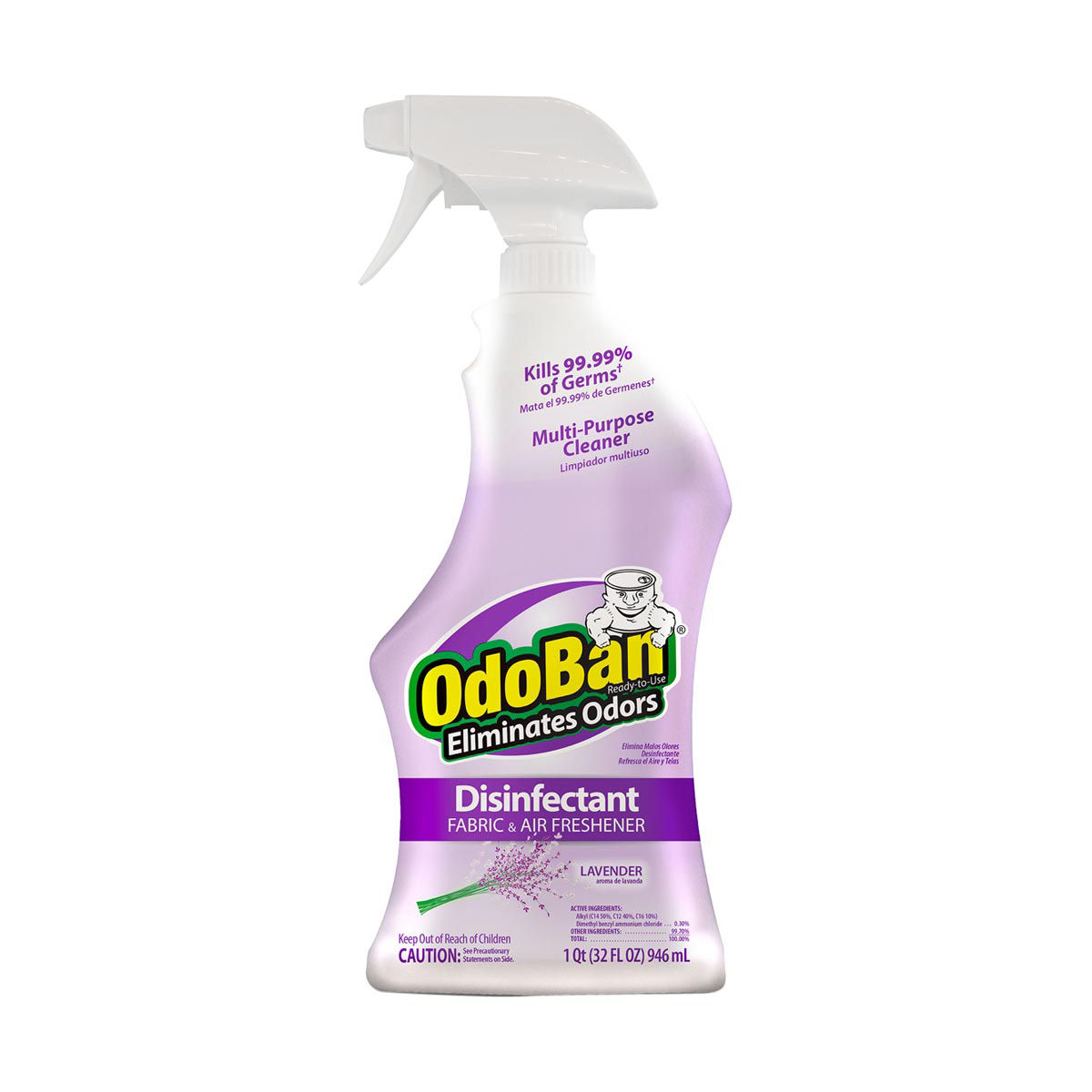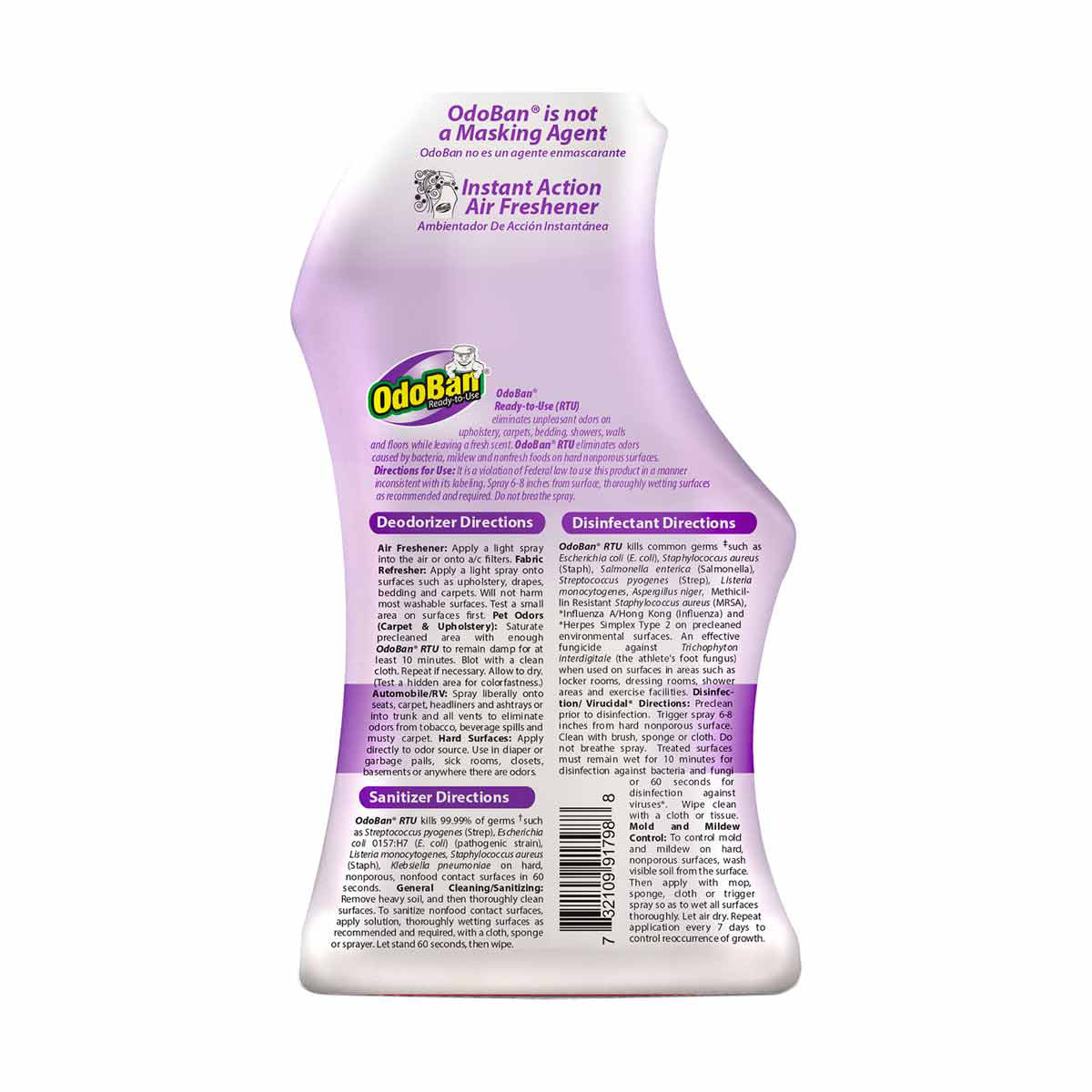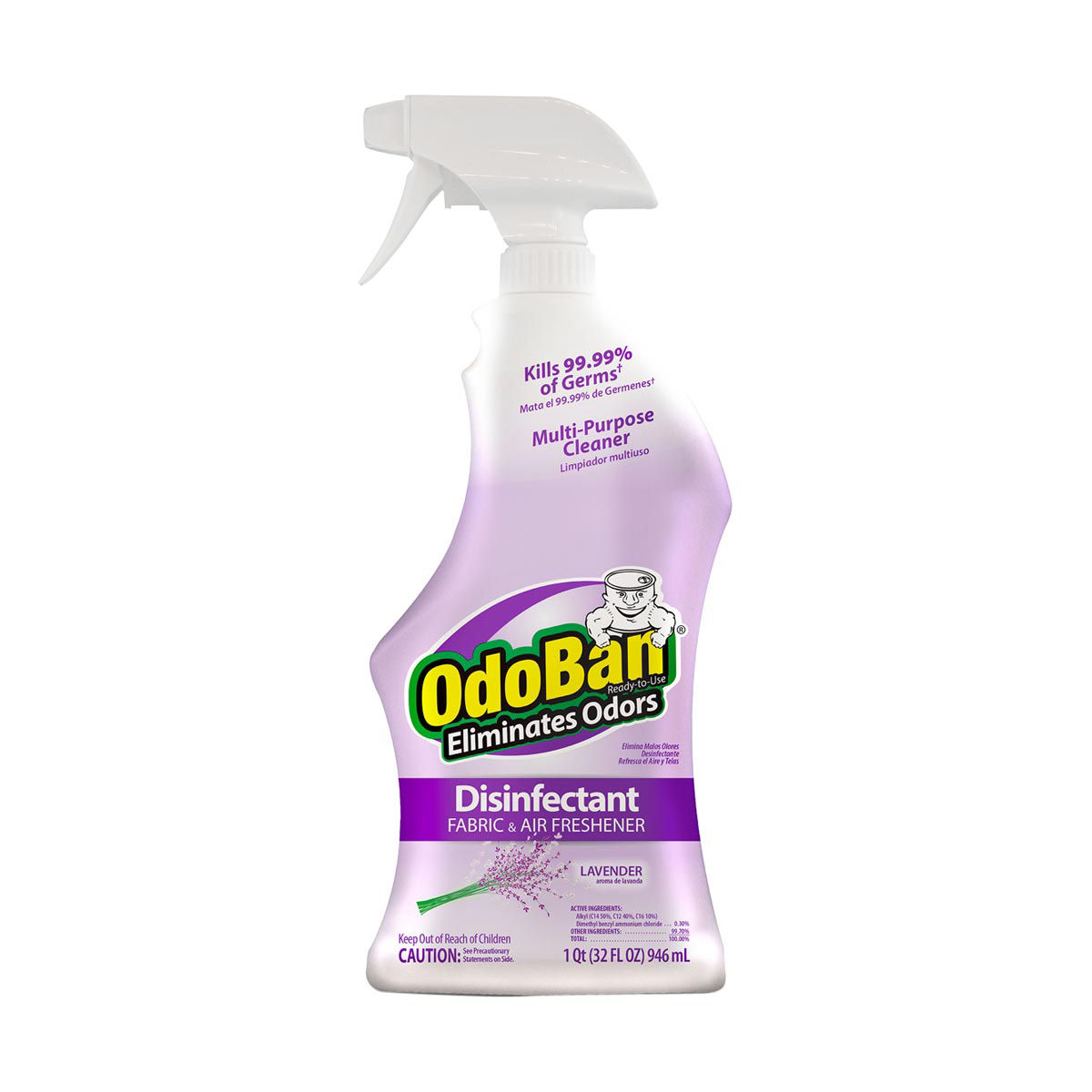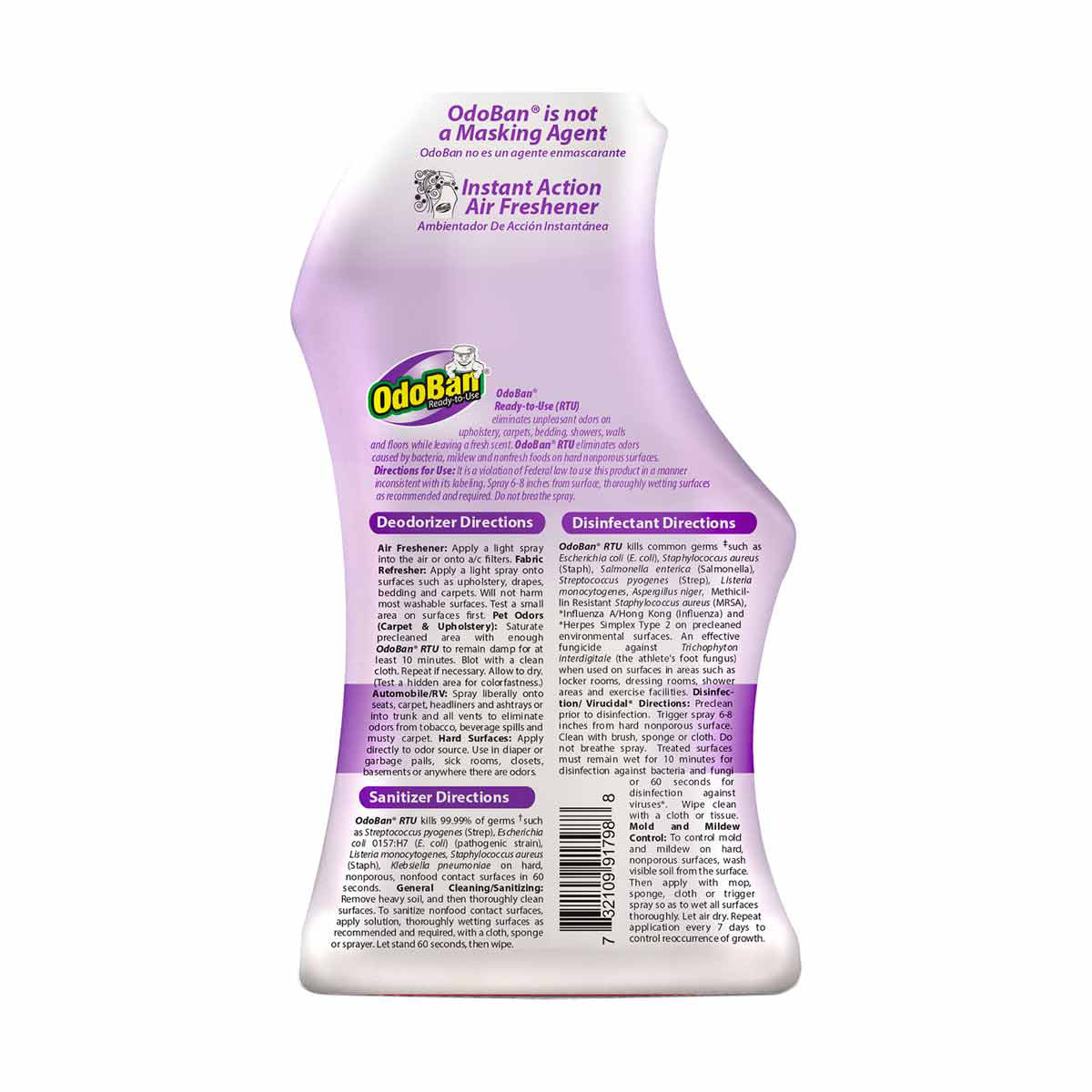 OdoBan Ready-to Use Disinfectant Fabric and Air Freshener Lavender Spray, 32 oz.
Highlights
Kills 99.99% of germs such as streptococcus pyogenes (strep), escherichia coli 0157:H7 (E. coli) (pathogenic strain), listeria monocytogenes, staphylococcus aureus (staph), and klebsiella pneumoniae on hard, non-porous, non-food contact surfaces in 60 seconds
Kills viruses such as HIV-1 (AIDS virus), influenza A/Hong Kong and herpes simplex type 2 in 60 seconds and is expected to inactivate all influenza A viruses including pandemic 2009 H1N1 (formerly called swine flu)
Kills common germs such as escherichia coli (E. coli), staphylococcus aureus (staph), salmonella choleraesuis (salmonella), streptococcus pyogenes (strep) and influenza A/Hong Kong (influenza) on pre-cleaned environmental surfaces in 10 minutes; prevents the growth of odor causing bacteria
Effective fungicide against trichophyton mentagrophytes (the athlete's foot fungus) when used on surfaces in areas such as locker rooms, dressing rooms, shower and bath areas and exercise facilities
Description
OdoBan Odor Eliminator, cleans, disinfects, sanitizes and deodorizes precleaned hard, non-porous household surfaces. Eliminates unpleasant odors on washable surfaces such as upholstery, carpets, bedding, showers, walls and floors while leaving a fresh scent. This industrial liquid odor eliminator leaves no residue and has a variety of uses. Odoban Ready-To-Use Disinfectant kills the human coronavirus which causes the common cold when used according to disinfection & sanitization directions on hard, nonporous surfaces. This product has demonstrated efficacy against a Human Coronavirus similar to SARS-CoV-2 (COVID-19).
Specifications
Key Features: Eliminates odors on washable surfaces such as upholstery, carpets, bedding, showers, walls and floors,Kills 99% of germs,Ready-to-use spray cleans, disinfects and deodorizes,Controls the growth of mold & mildew
Brand: OdoBan
Size: 4OZ
Assembled Product Height: 11.25 in
Assembled Product Width: 4.38 in
Assembled Product Length: 2.88 in
Assembled Product Weight: 2.5 lb
Scent: Original Eucalyptus
Form: Spray
Recommended Surfaces: Washable Fabrics, Door Handles, counters, Floors
Release Date: 2023-09-25T17:16:06.553Z
Fluid Ounces: 4 fl oz
Active Ingredient: Alkyl (C12-16) dimethyl benzyl ammonium chloride %
Manufacturer: Clean Control Corporation
SKU: 26617701