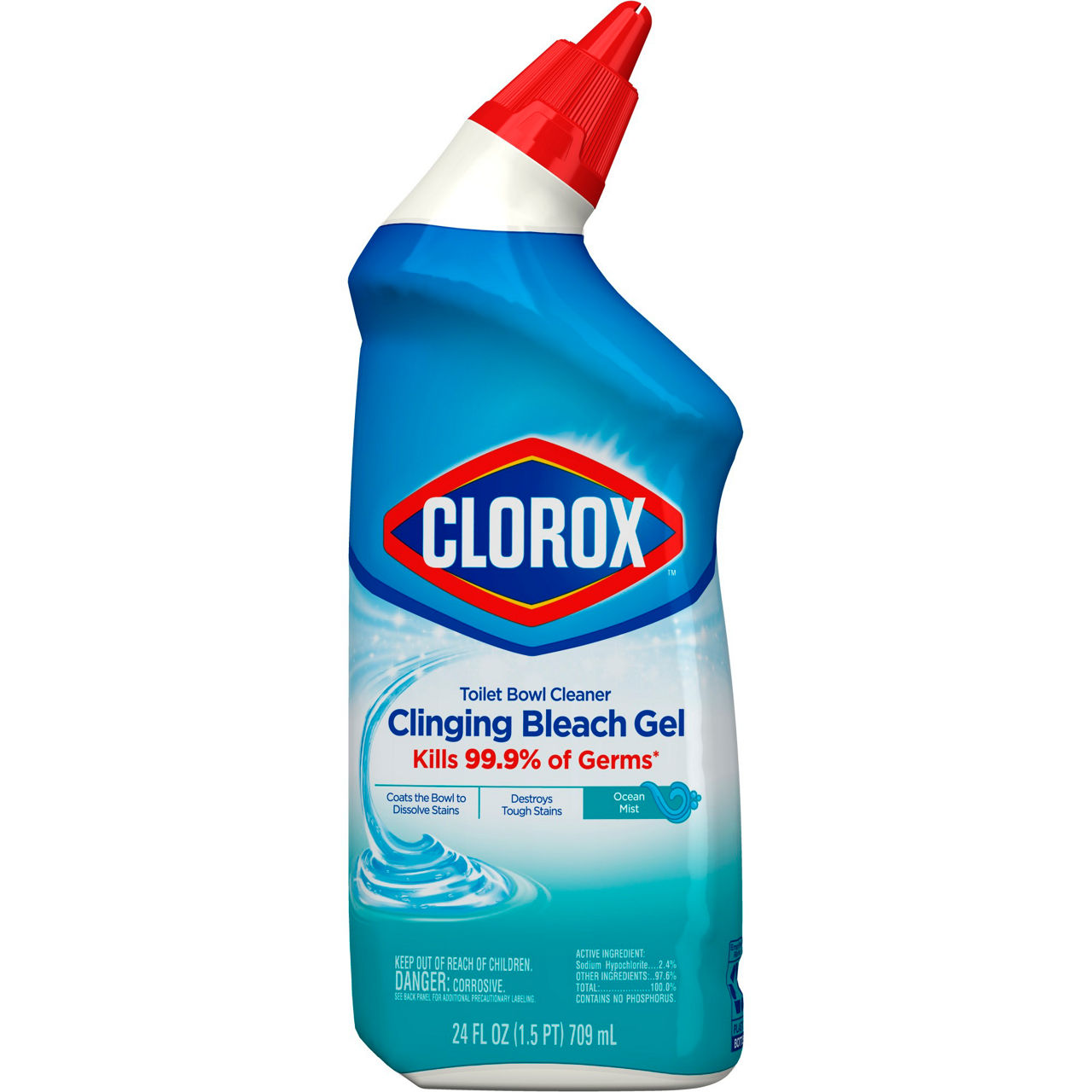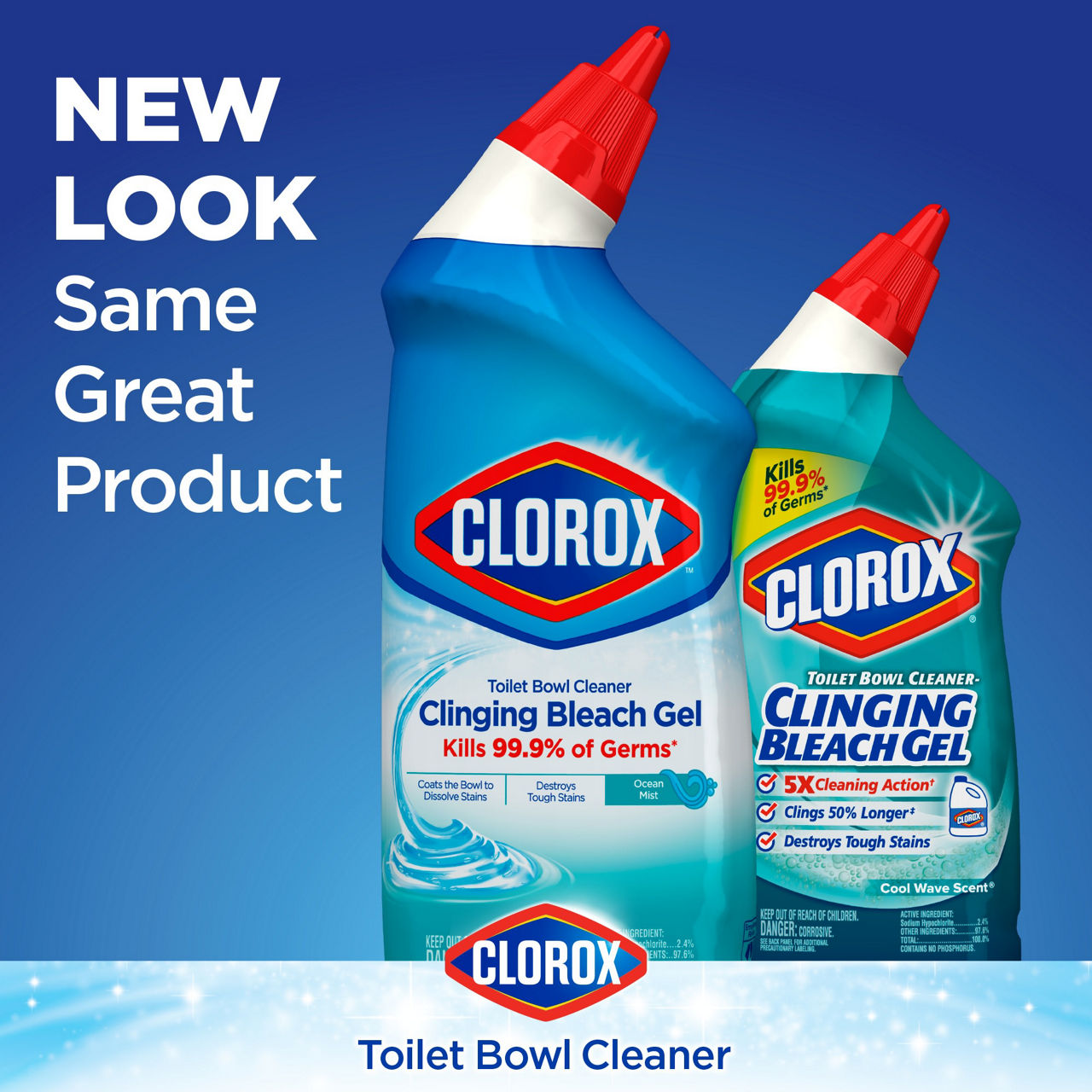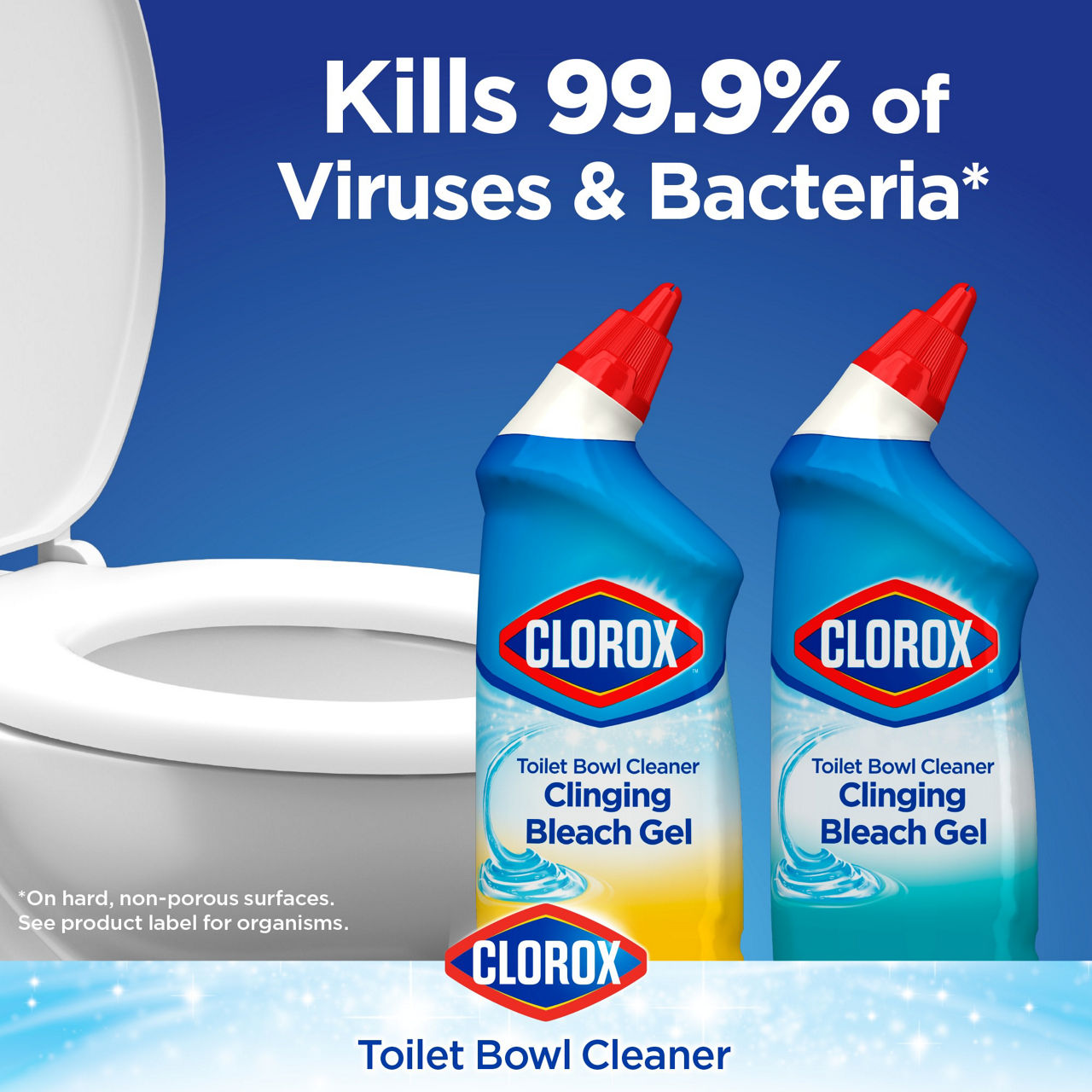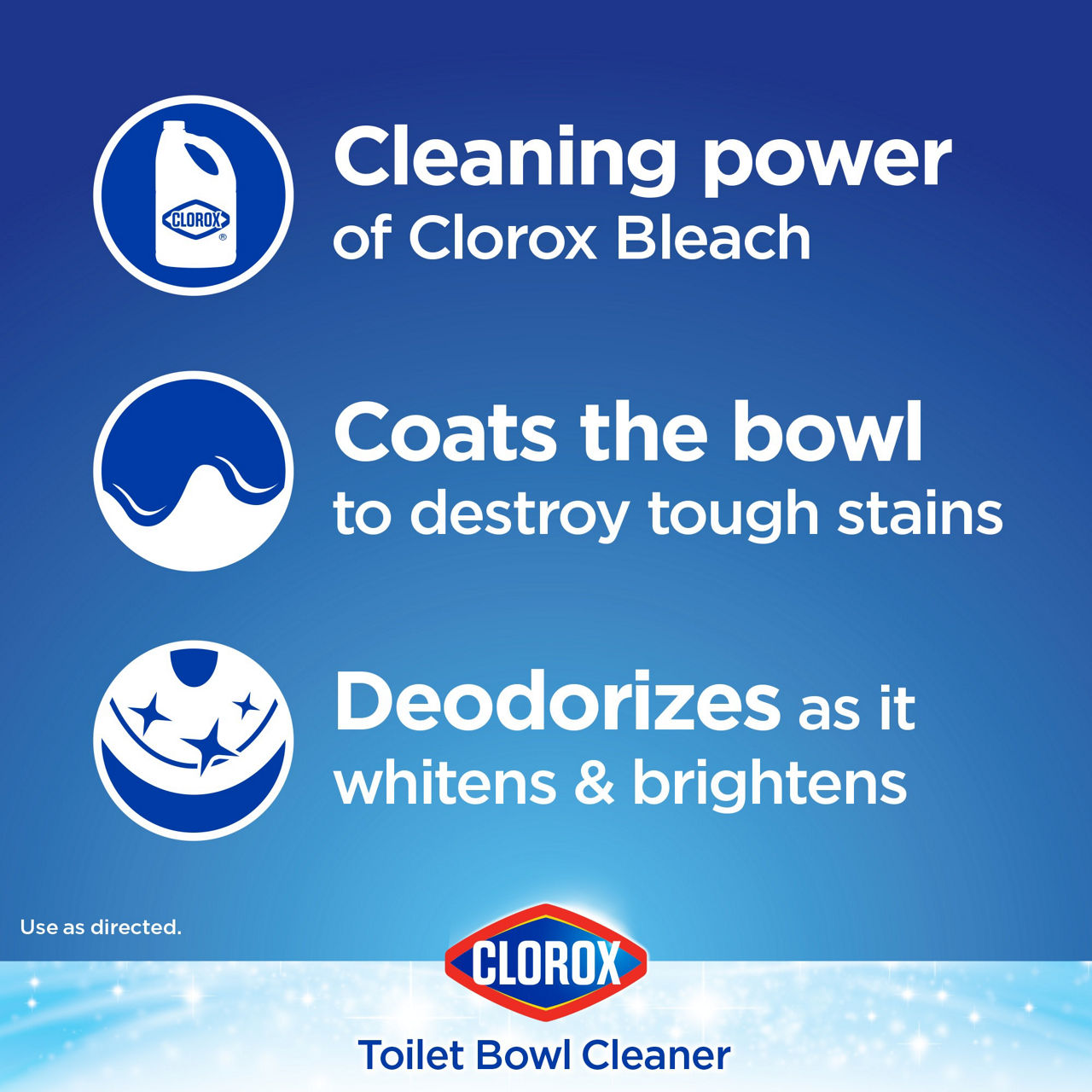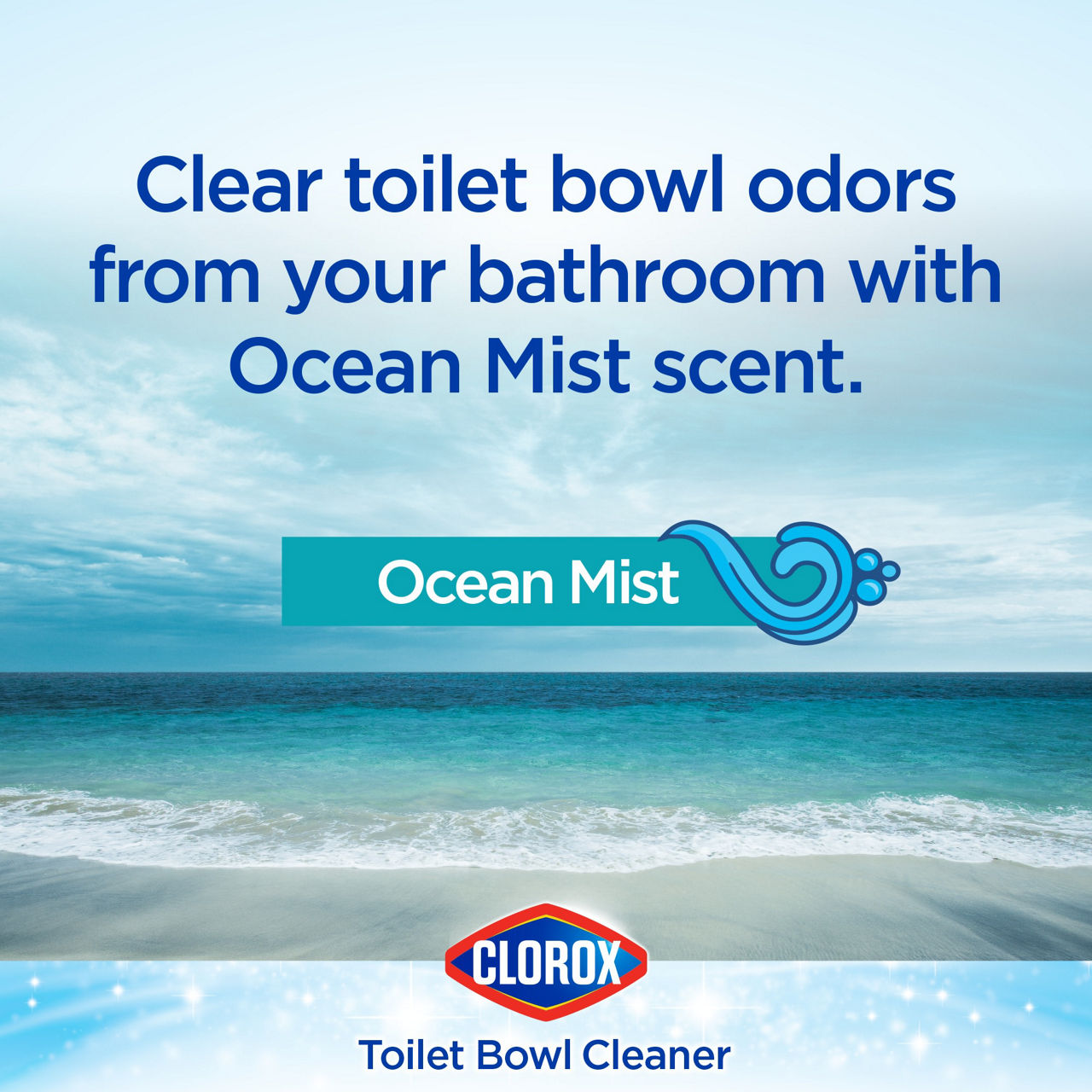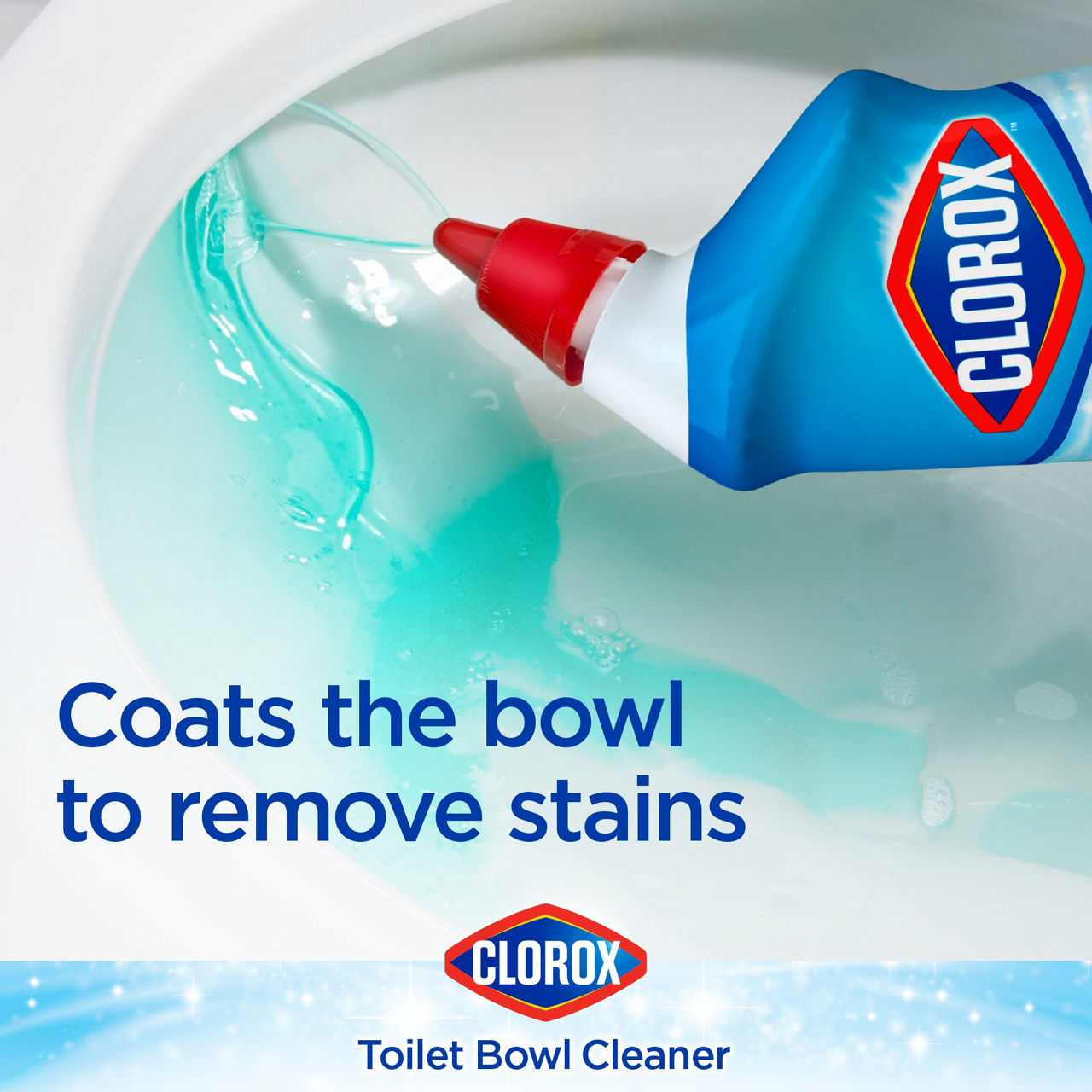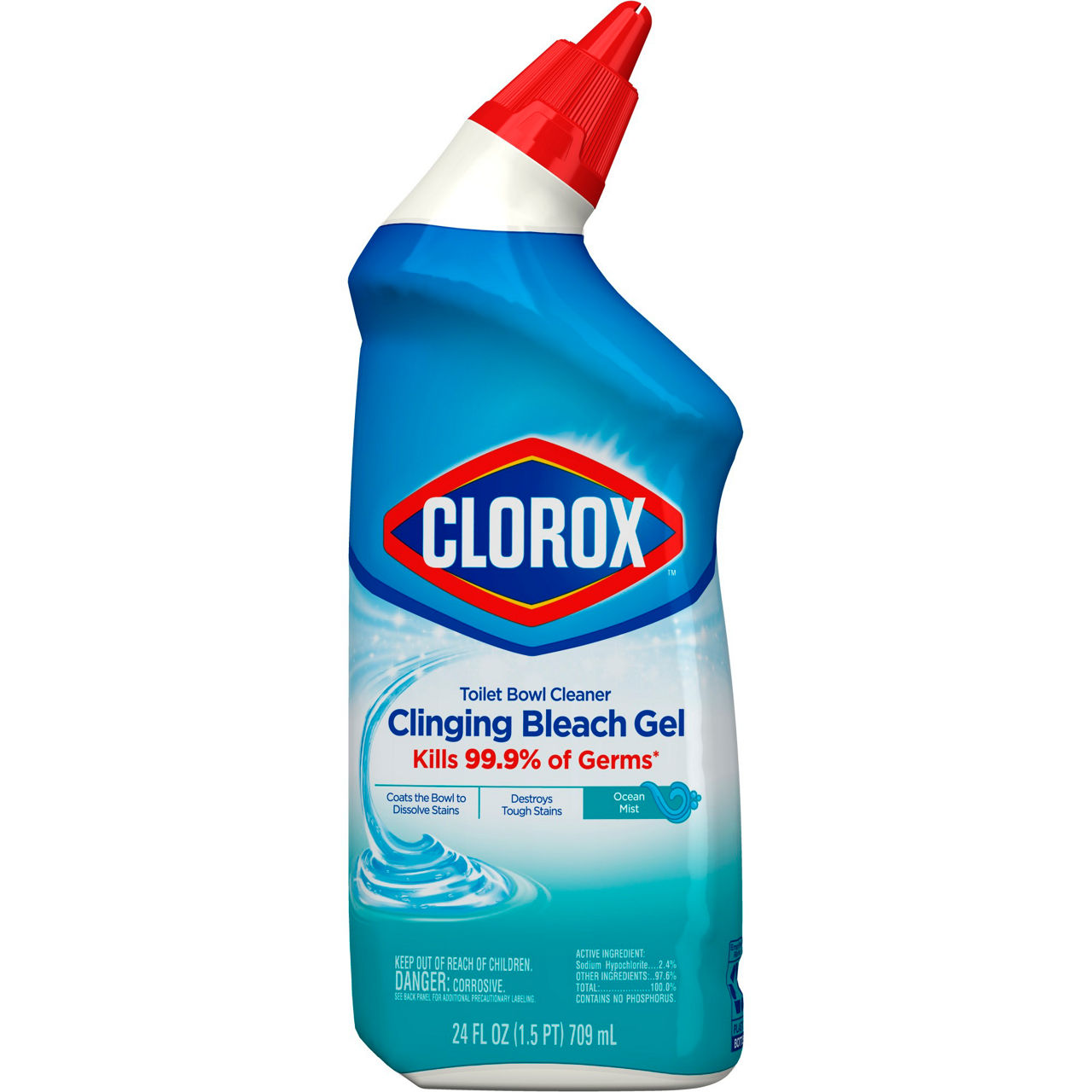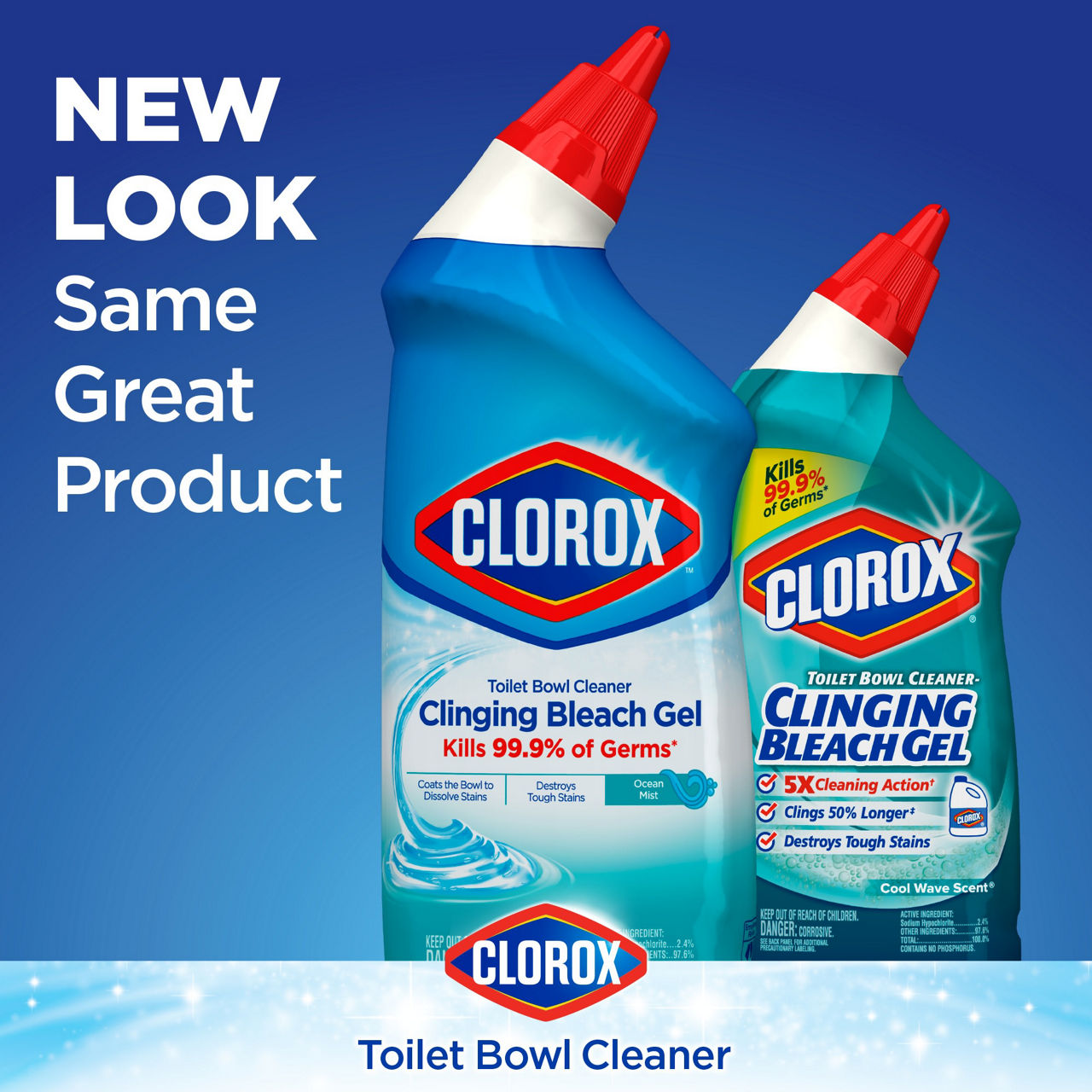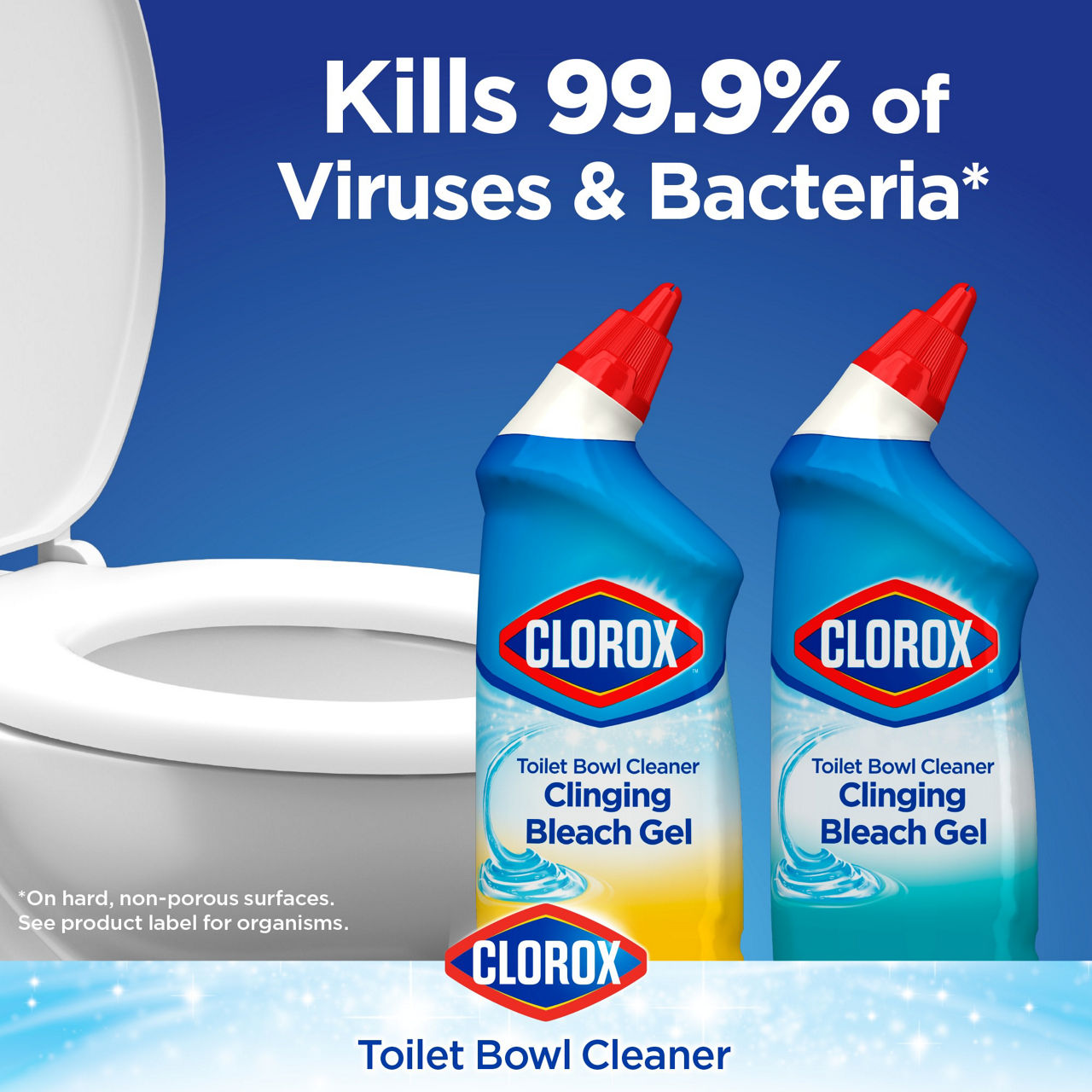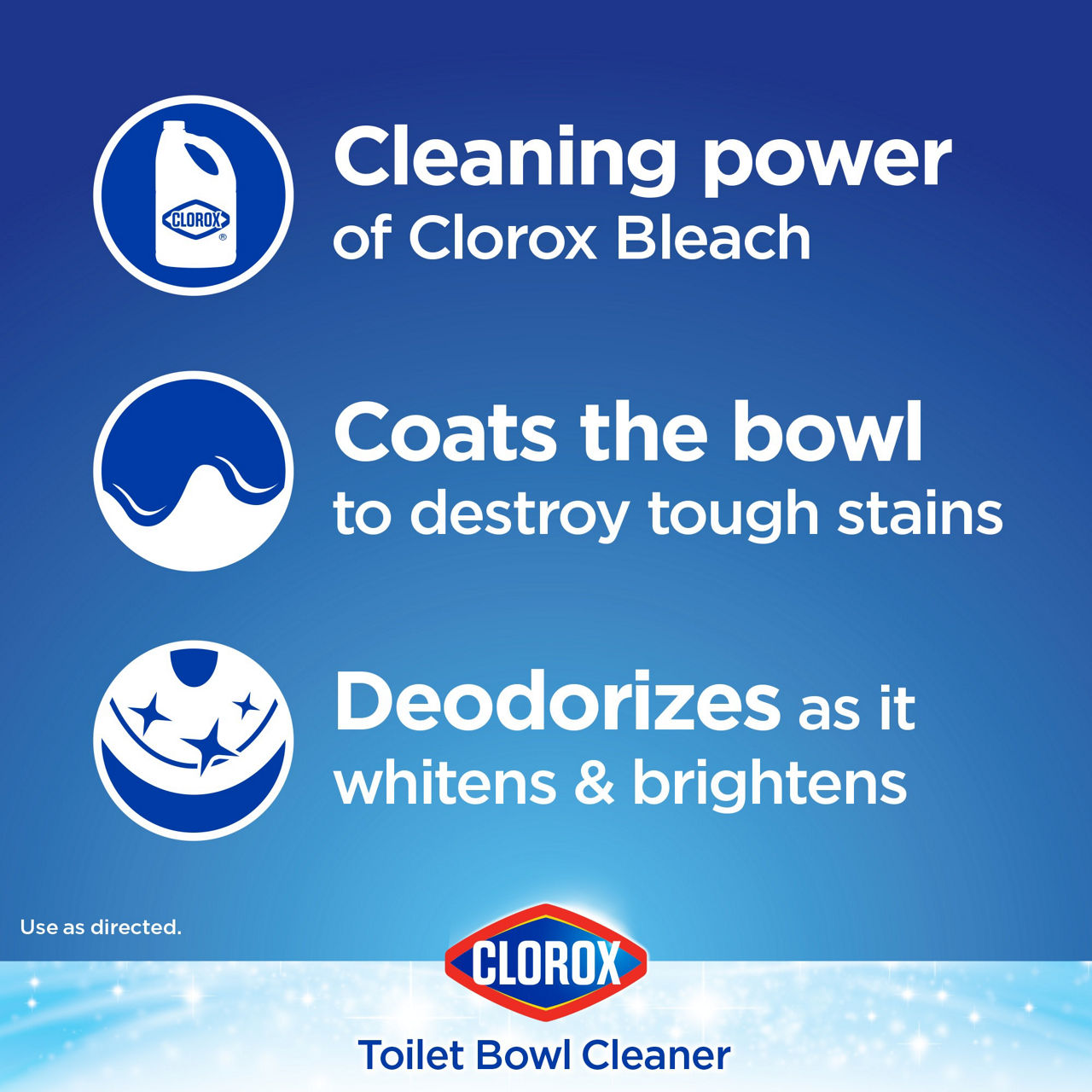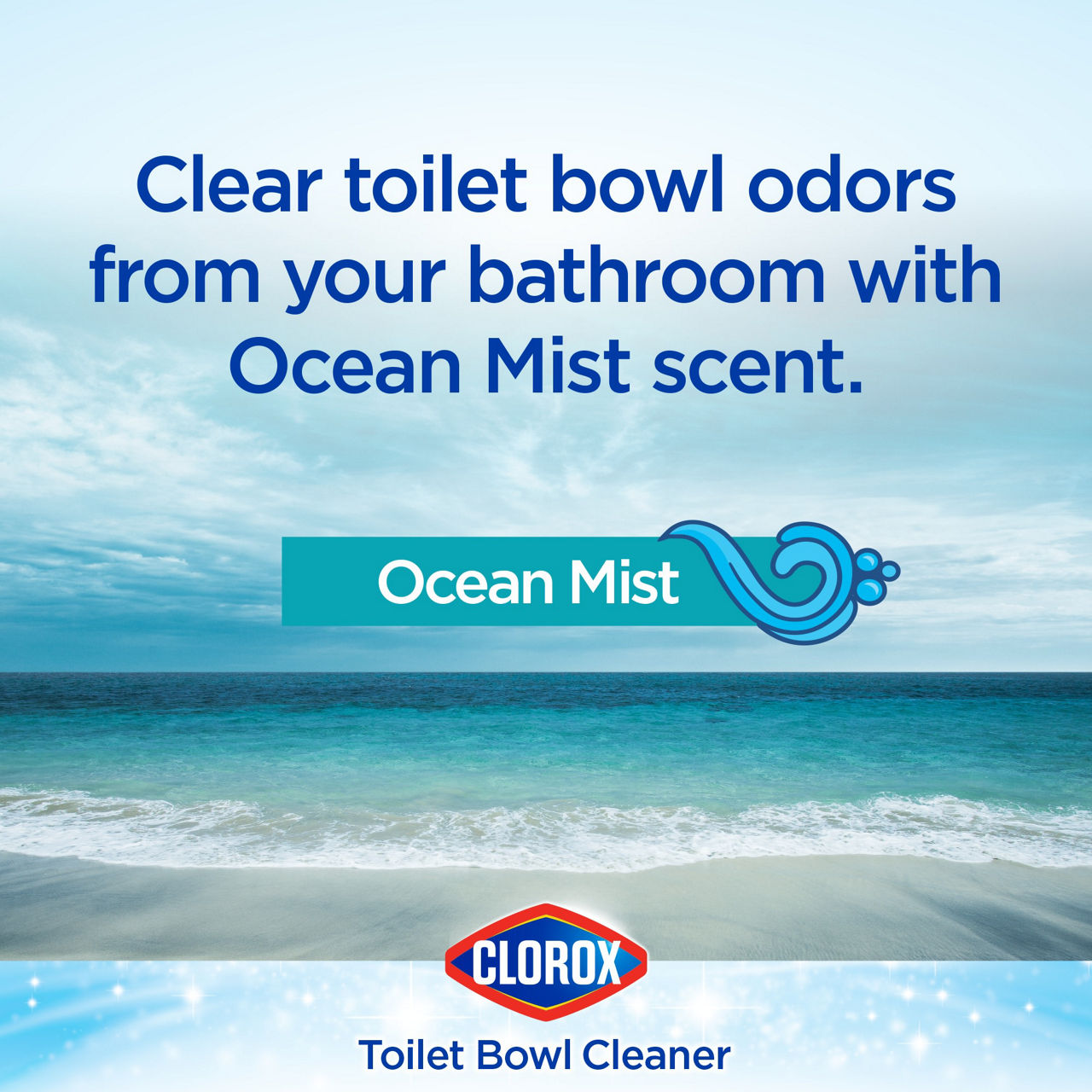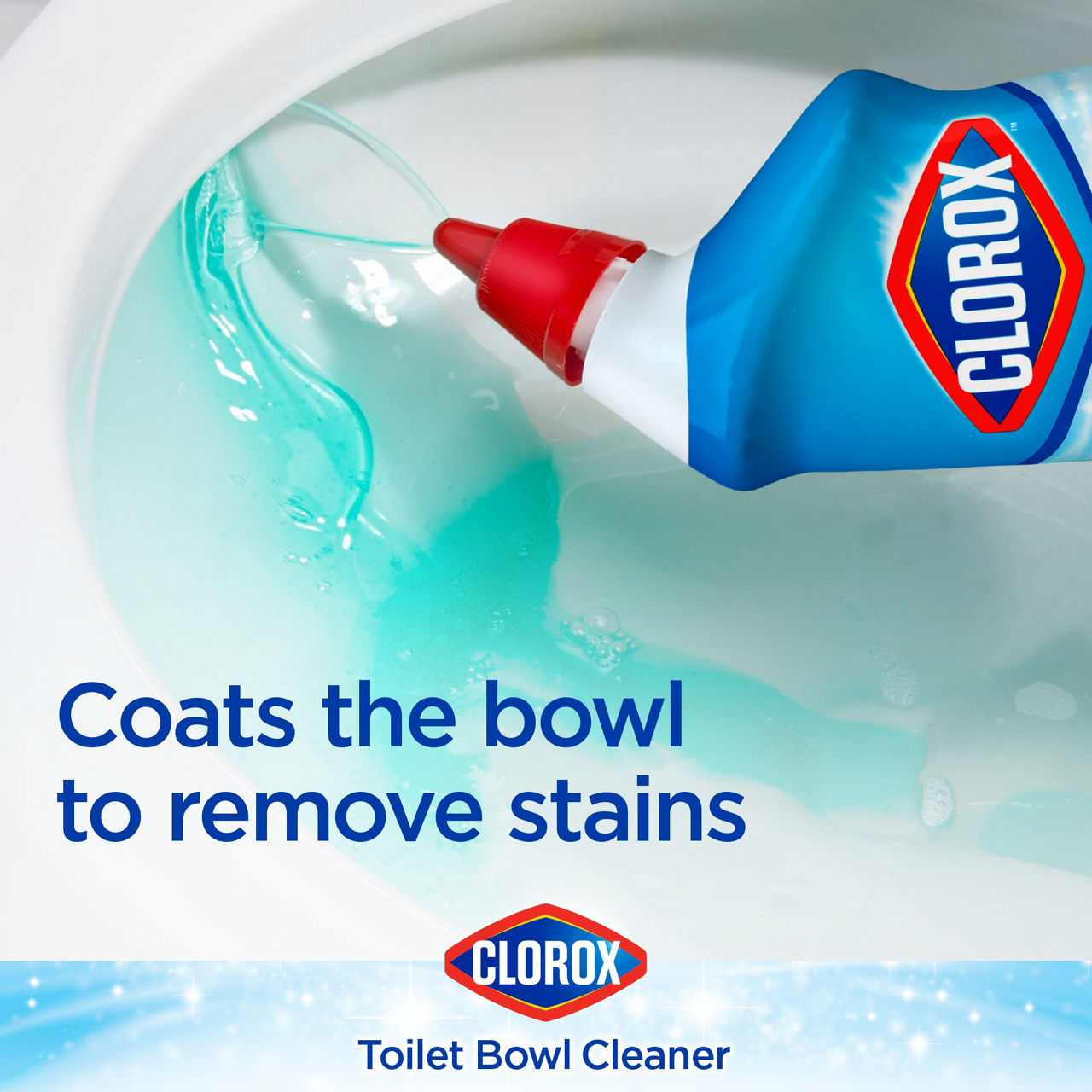 Clorox Toilet Bowl Cleaner Clinging Bleach Gel, Cool Wave, 24 oz.
Highlights
Whitens and brightens your toilet
Toilet cleaner with Clorox Bleach
Cleans and disinfects stains
Description
Clorox Toilet Bowl Cleaner, Clinging Bleach Gel, kills 99.9% of germs and whitens and brightens your toilet bowl with the trusted power of Clorox Bleach. This powerful gel cleaner clings to your toilet bowl while it destroys tough stains, disinfects and eliminates odors with a fresh Ocean Mist scent. The only Toilet Bowl Cleaner with Clorox Bleach, this thick cleaning gel coats the bowl to provide a deep clean and rinses away for a sparkling clean. Uniquely angled, this dispensing nozzle makes it easy to tackle hard-to-reach areas under the bowl rim with a simple squeeze of the bottle. The clinging bleach action let's you power through the toughest toilet stains with confidence. Clean, disinfect, and let your toilet sparkle with Clorox Toilet Bowl Cleaner, Clinging Bleach Gel in a Ocean Mist scent.
Specifications
Biodegradable: no
Key Features: BLEACH TOILET BOWL CLEANER: Kills 99.9% of germs, and whitens and brightens your toilet bowl with the power of Clorox Bleach and leaves a fresh Ocean Mist scent; Package may vary,CLOROX TOILET CLEANER: The only Toilet Bowl Cleaner with Clorox Bleach, in a uniquely angled nozzle that let's you easily target hard to reach areas for the best toilet bowl coverage,NON-ABRASIVE DISINFECTING BLEACH CLEANER: Thick and powerful disinfecting bleach gel cleaner coats the bowl to dissolve stains and rinses away the grime for a sparkling clean,BATHROOM CLEANER: Clinging gel formula with Clorox Bleach, let's you power through the toughest stains and gets your toilet sparkly clean and bright,DEODORIZING CLEAN: Squirt bleach cleaner under and around the rim, scrub and let sit as it disinfects, whitens and brightens your bowl, then flush for a squeaky clean toilet
Brand: Clorox
Assembled Product Height: 10.41 in
Assembled Product Width: 2.43 in
Assembled Product Length: 3.78 in
Assembled Product Weight: 1.82 lb
Scent: Cool Wave
Form: Gel
Recommended Surfaces: toilet bowl
Release Date: 2023-09-19T20:44:17.439Z
Ingredients: Sodium Hypochlorite 2.4%. Other ingredients: 97.6%. Contains 2.28% available chlorine.
Fluid Ounces: 24 fl oz
Made From Recycled Material: false
Flammable: no
Combustible: no
Aerosol: no
Manufacturer: CLOROX SALES COMPANY
Human Consumption: no
SKU: 00956102