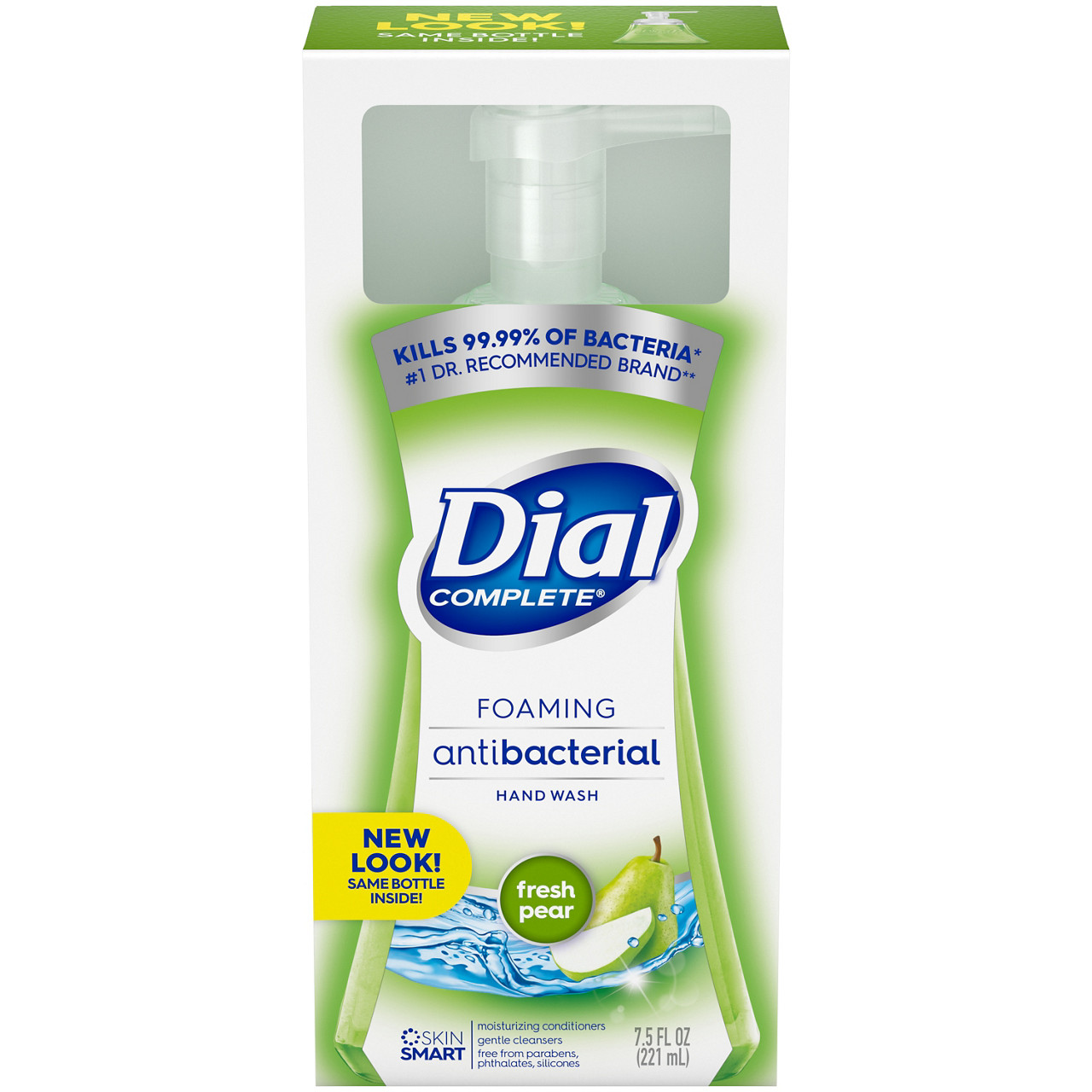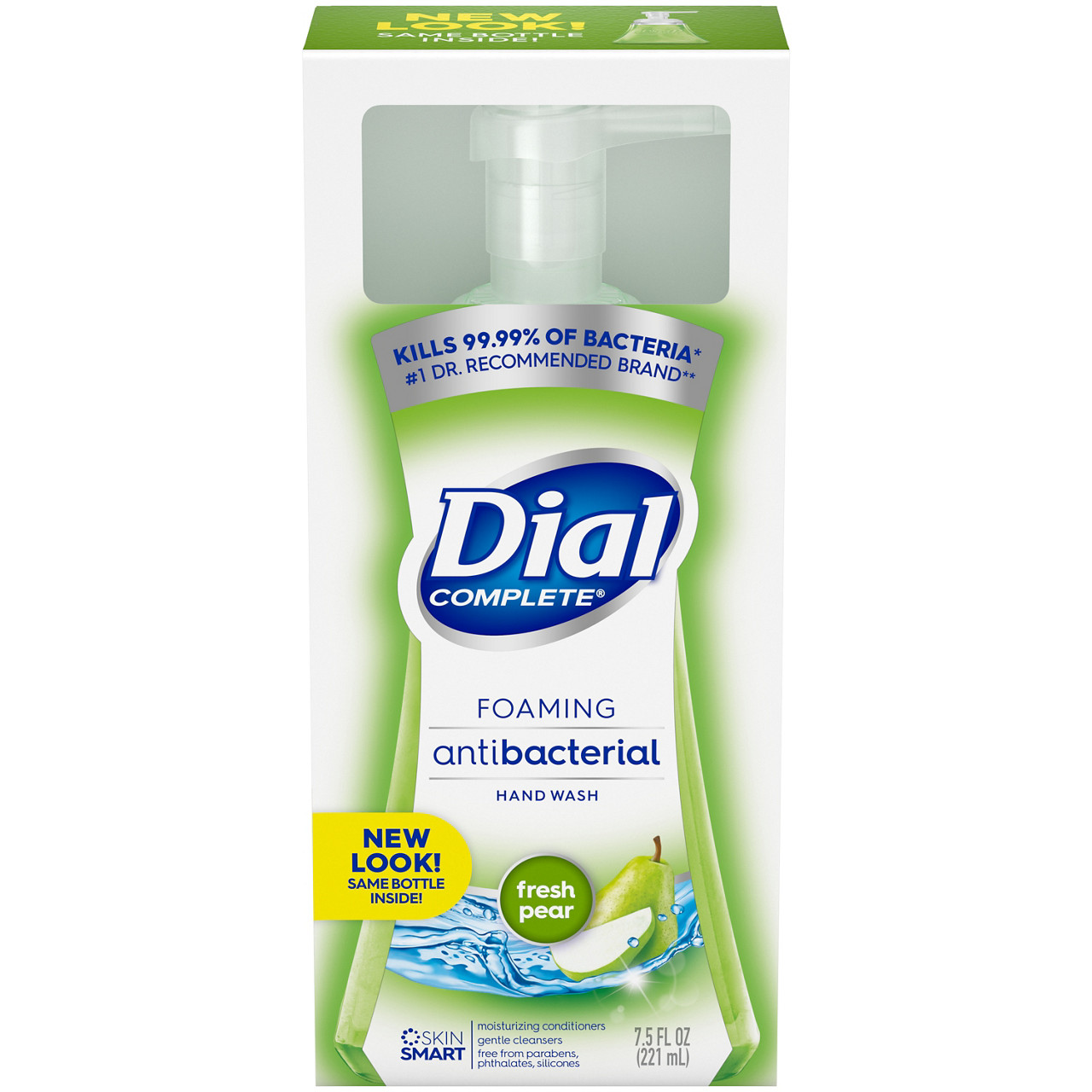 Highlights
RICH, CREAMY LATHER: Experience the luxurious, creamy foaming formula with Dial antibacterial foaming hand washes for your hands to love.
PROTECT AGAINST BACTERIA: Kills 99.99% of Bacteria* (*Bacteria encountered in household settings)
TOUGH BUT GENTLE: Formulated with antibacterial ingredients, Dial Complete is tough on bacteria but gentle on skin.
SKIN SMART: Skin Smart formulas from Dial, formulated with moisturizing conditioners & gentle cleansers - Free From phthalates, parabens, and silicones.
Description
Indulge in a lather that's lotion-soft, with the fragrance of fresh pears. Dial Complete Antibacterial Foaming Hand Wash foaming formula is gentle on skin but tough on dirt and bacteria, so you can be sure you're giving your hands a clean that's complete.
Specifications
Key Features: HOW TO USE: 1. Pump into DRY hands 2. Lather vigorously in DRY hands for at least 20 seconds 3. Rinse clean with water. Remember: Pumping soap into dry hands saves energy and water!
Brand: Dial
Size: 7.5 fl. oz.
Assembled Product Height: 7.4 in
Assembled Product Width: 3.3 in
Assembled Product Length: 1.95 in
Assembled Product Weight: 0.701 lb
Scent: Fresh Pear
Travel Size: no
Instructions: Pump into dry hands. Lather vigorously for at least 20 seconds. Rinse and dry thoroughly.
Form: Foaming Hand Wash
Ingredients: Active Ingredient: Benzalkonium Chloride 0.13% Inactive Ingredients: Aqua (Water, Eau) · Glycerin · Lauramine Oxide · Cetrimonium Chloride · Cocamidopropyl Betaine · Citric Acid · Sodium Benzoate · Hydroxypropyl Methylcellulose · Parfum (Fragrance) · Zinc Sulfate · Sodium Chloride · Dimethyl Lauramine · Tetrasodium EDTA · Alcohol · Dimethyl Myristamine · CI 47005 (Yellow 10) · CI 42053 (Green 3)
Inactive Ingredients: Aqua (Water, Eau) · Glycerin · Lauramine Oxide · Cetrimonium Chloride · Cocamidopropyl Betaine · Citric Acid · Sodium Benzoate · Hydroxypropyl Methylcellulose · Parfum (Fragrance) · Zinc Sulfate · Sodium Chloride · Dimethyl Lauramine · Tetrasodium EDTA · Alcohol · Dimethyl Myristamine · CI 47005 (Yellow 10) · CI 42053 (Green 3)
Active Ingredient: Benzalkonium Chloride 0%
Manufacturer: HENKEL CORPORATION
SKU: 00734501